The State Bank of Vietnam promulgated a circular on Wednesday regulating the US dollar purchases by the state-run companies, which will take effect next month.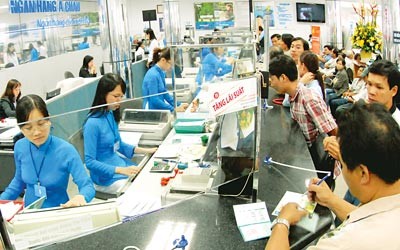 ACB staff handle transactions at the bank's branch in Ho Chi Minh City.
Under the circular, the state-run firms will have to sell the greenbacks from their deposit accounts and any other legitimate income to banks from July onwards.
Statistics from the central bank show that state-run companies sell around US$6-8 billion to lenders annually.
The state bank also raised the compulsory reserve ratio of commercial banks in order to buttress efforts by authorities to support the dong, although the Vietnamese currency has stabilized in recent weeks after devaluation in February.
The State Bank of Vietnam raised the reserve ratio on non-term foreign currency deposits and on those with terms up to 12 months, from 6 percent to 7 percent
The rate for compulsory reserves on foreign currency deposits with terms longer than 12 months was raised to 5 percent from 4 percent. The ruling came into effect this June.