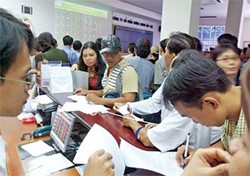 Domestic investors keen at making money from the stock market.
Viet Nam's stock market has been bustling since the country officially became a WTO member. It seems that this overture to the world economy has triggered a rush among domestic investors for wealth-searching opportunities. A high mood for investing in securities has prevailed, similar to the rage of investing in turtle and fish raising a few years ago, or the highly speculative market of land use rights in early 90's.
Due to the penchant of making business decisions based on rumors rather than reliable information, John Shrimpton of the Dragon Capital Investment Fund said that the Vietnamese stock market is one with "frequent unusual fluctuations". Optimistic views about the success of the Vietnamese stock market have been mixed due to these fluctuations. However, domestic investors have remained keen at the idea of profiting off the market, regardless of various warnings from economic and financial indexes, as well as the ratings of business efficiency of the enterprises listed on this market.
As of March 2007 the Viet Nam stock market has 193 listed companies with capital totaling VND 371 trillion and 158,000 portfolio investors with total transactions approximating VND 869 billion per day. It has been repeatedly noted that the P/E index (72-73/1) of most Vietnamese enterprises on the stock market represents very low business efficiency in comparison with the average level of enterprises throughout the world (15/1). In fact, the enterprises listed in the stock market are not considered as "highly vigorous" in the economy. Yet the market still remains hot.
The government has a plan to privatize 200 key enterprises and list them on the stock market. The total capital stock of these companies is definitely much higher than the current amount of capital on the stock market. For instance, the Vietnam Bank for Foreign Trade (Vietcombank) is currently listed at being worth VND 40 trillion worth of shares.
In order for enterprises to mobilize sufficient capital for long-term development, the stock market needs to be able to attract capital from foreign investors. There will be conditions for people to make investments and get rich, but the important thing is that they are equipped with the knowledge to invest smartly. With so much fervor for domestic investing in an unstable market, people need to be more careful with their money so they do not pay a dear price for their hastiness.
Related link
Stock Prices Hammered for 6th day Running