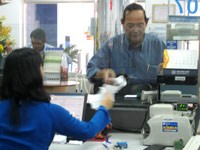 Transaction in ACB. (Photo: T.C)
The service is to be launched in March 2006 by Asia Commercial Joint-stock Bank (ACB). It allows individual investors to borrow money from the bank and use their own unlisted stocks as collateral.
It is really convenient for customers as they can borrow up to 50% of their stocks' market value. Customers can also choose their payment schedule – paying the debt at the end of the term or paying monthly installments. Moreover, loan procedure is simple and can be completed in 24 hours. Customers do not need any evidence on income or purpose of borrowing.
This is the first time a lending product secured by unlisted stock is provided nation-wide. Vietnamese investors will have a chance to fully utilize their investment on the market.