Vietnam International Bank (VIB) became the next lender to lower lending interest rates, after the Agriculture and Rural Development Bank, Joint Stock Commercial Bank for Foreign Trade of Vietnam, and Vietnam Joint Stock Commercial Bank for Industry and Trade.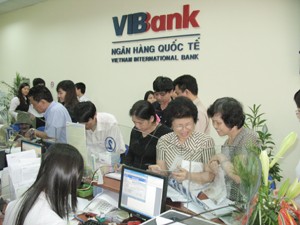 A VIB Bank office
VIB said it recently built a VND4 trillion credit package for manufacturing, import and export businesses with interest rates which are 1.5 per cent per annum lower than normal, of which VIB reserved VND2 trillion for food and beverage producers.
Moreover, it also set aside US$50 million for import-export enterprises at favourable interest rates, to help them with working capital and documents discount with sponsored rate up to 95 per cent.
Small and medium businesses, companies that export coffee, rice, aqua products, wooden furniture, garment and textile will be given top priority to access this credit package.