New gold trade measures in Viet Nam that allow gold to be traded on overseas accounts create both opportunities and risks for potential buyers and sellers.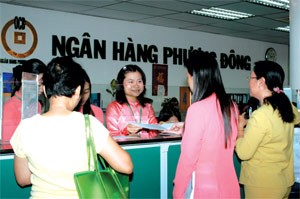 Orient Commercial Joint-Stock Bank appeals a lot of new customers to the bank after conducting the trade of gold on accounts
In a bid to bring domestic prices on par with world markets, the State Bank of Viet Nam (SBV) allowed credit organizations and gold companies to trade gold through overseas accounts early this year, an effective tool in avoiding gold trading risks as gold prices remain fickle.

As gold can now be traded through overseas accounts under international transaction forms, Viet Nam is now in line with international trends that help minimize the trade of physical gold and create an effective transaction chain between the local and global markets, especially as the Vietnamese Government allows companies to import, but not export gold.

Banks and other financial institutions need to have at least 500kg of gold in deposits, and gold companies must have at least VND100 billion (US$6.3 million) as equity capital to be eligible to trade gold through overseas accounts.
While financial institutions must maintain a gold status of not over 20 per cent of their equity, the limit is 100 per cent for gold companies.

Rising tide of gold trade

So far, only five banks and three gold, silver and precious stone trading companies are allowed to conduct this operation.

"After over two months of carrying out the operation, turnovers on gold trading accounts have reached about 1,000 kilograms of gold," said Phan Thanh Hai, a gold and foreign currency trade specialist at Orient Commercial Joint-Stock Bank (OCB),

Thanks to using this operation as an insurance tool for gold trading activities, OCB's buying and selling turnovers and profits have increased and their more competitive prices also have drawn a lot of new customers to the bank.

OCB always tries to improve risk management and ensure the safety and effectiveness of businesses."

Not always on easy-street
The trade of physical gold is rather familiar to Vietnamese people (Photo: T.K)
According to experts, trading gold on accounts can also be quite difficult due to global high interest rates on the US dollar. After the US Federal Reserve has continuously increased interest rates17 times, the interest rate is currently 5.25 percent per year.

In addition, the volume of gold which SJC processes for credit organizations has reduced, making capital turnover slower.

Trading gold on accounts is currently good for credit organizations but is not recommended for individuals due to the high risks involved.

If an individual opens a gold trading account at a price difference of US$1.5/ounce plus the US$0.4/ounce fee, he will suffer a loss of US$1.9/ounce. With a minimum transaction volume of 5 kilograms of gold (about 160 ounce or 133 taels), he will incur a loss of US$305 without other expenses.

These risks may be heightened at the end of the scheduled day when gold limits are over.

Therefore, many people prefer trading physical gold.

According to Mr.Hai, in order for people to trade gold on accounts, banks must have a strong enough IT system to manage customers' profiles and online transactions. Regulated minimum volumes of gold for transaction and transaction fee also have to be reduced.

However, when Viet Nam enters the World Trade Organization, trading gold on accounts is hoped to further develop to give more options for investors.
Vietnamese banks and companies which are allowed to conduct the trade of gold on accounts:

The Viet Nam Export-Import Commercial Joint Stock Bank (Eximbank), the Sai Gon Commercial Joint-Stock Bank (Sacombank), the Asia Commercial Joint-Stock Bank (ACB), the Orient Commercial Joint-Stock Bank (OCB) and Viet Nam Asia Commercial Joint - Stock Bank.

The Saigon Jewelry Company (SJC), Fine art, Gold, Silver and Precious Stone Trading Co. under the Viet Nam Bank for Agriculture and Rural Development, and Gold and Precious Stone Co. under the Ho Chi Minh City Bank for Agriculture and Rural Development.