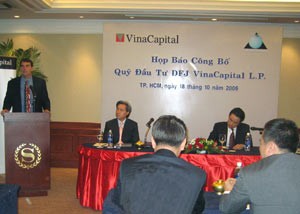 The press conference of DFJ VinaCapital L.P at Sheraton Saigon hotel. (Photo: T.C.)
Wednesday October 18, VinaCapital officially launched the US$50 million DFJ VinaCapital L.P for investing in Viet Nam's technology companies including equitized state-owned telecommunication enterprises.
The fund is a joint venture between the VinaCapital Group and the Draper Fisher Jurvetson (DFJ).
DFJ, founded in 1985, is a top international venture capital firm based in Silicon Valley with offices in more than 30 cities around the world and nearly US$3.5 billion in chartered capital.
In the past, the risky fund has buy-backed approximately 300 companies in such industry changing catalysts as Hotmail (acquired by MFST), Baidu (BIDU), Skype (acquired by Ebay), United Online (UNTD), Overture (acquired by Yahoo), Interwoven (TWOV) and Digidesign (acquired by Avid).
Tim Draper, founder and managing partner of DFJ, is confident about the potential of the development in Viet Nam.
"Viet Nam is now ripe and ready for venture capital investing. The foreign funds can catch the obvious opportunity created by the opening up of economics in the very motivative a country. And hence, we definitely look forward to the exciting market in Viet Nam and are happy to be part of this growth", he said.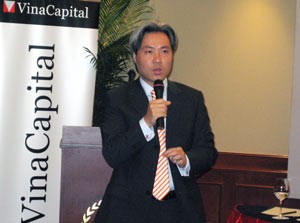 Don Lam, managing partner of VinaCapital believes that Viet Nam will attract more capital of venture investments in future. (Photo: T.C.)
The co-founder and managing partner of VinaCapital, Don Lam, is elated. "Viet Nam is at an early stage of a steep technological growth curve in the industry. We would look forward to collaboration or co-investments with other funds and partners to serve the technological growth in the country", he said.
VinaCapital is one of the most motivatived funds in the market. The fund manages over US$500 million in assets and also acts in Asia for its sister company, Pacific Alliance Group.
According to Louis Nguyen, managing director of DFJ VinaCapital L.P, the fund will look into investment opportunities in the secular growth of the Vietnamese internet and wireless markets as well as attractive privatization opportunities.
"With the government's IT (information technology) position, acceleration in privatization of state-owned enterprises, and the boom in IT startups in Viet Nam, we believe that Viet Nam is ready for a very optimistic future in technology investment", he added.
Before its official launch, DFJ VinaCapital L.P had already made its first investment on a major Vietnamese internet community portal called timnhanh.com. At the moment, the fund is evaluating around 20 additional deals.
Related Articles:
The First Malaysian Business Enterprise Lists on HCMC Bourse
VinaCapital Fund Buys 15% of Masan Foods
IDG Fund Optimistic at Viet Nam's Prospects upon WTO Entry
VinaLand Debuts on London Stock Exchange (AIM)