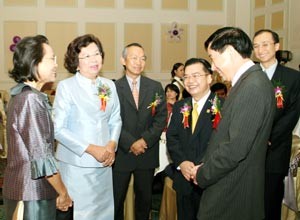 Director of VinaSiam Bank Viroj Thanapitak (fourth from the left) and Thai partners in the venture. (Photo: T.M)
VinaSiam Bank (VSB), in celebrating its 11th birthday, said that the bank always maintains the profit growth in recent years at 20% to 25% and total deposit increase of 30% annually.
VinaSiam Bank is the joint-venture between three partners of the Bank for Viet Nam Bank for Agriculture and Rural Development (Agribank) (34%), the Thai's Siam Commercial Bank Public Co. Ltd. (SCB) and the Thai's Charoen Pokphand Group Co., with 33% for each of the two foreign partners.
Several years ago, VSB cooperated closely with Agribank's branches and other commercial banks to co-finance many big projects such as the Hiep Phuoc Power, the Phu My Hung Joint-venture Co., the Cement Materials & Technologies Co. Moreover, the bank also took part in almost all Thai investment projects in Viet Nam such as Charoen Pokphand, CP Seed, CP Vina, 4 Oranges, Thai Royal, etc.
VSB officially came into operation on August 15, 1995 with the initial chartered capital of US$15 million. As of 2004, the bank's capital rose to US$ 20 million. VSB's net income in 2004 reached US$1.6 million and US$1.94 million in 2005. VSB currently has the total assets of US$250 million with 6 branches nationwide.
Related Link:
VinaSiam Bank