The establishment of BankNet (National Financial Transfer Joint-Stock Company) in April will enable the networking of ATMs from seven local banks.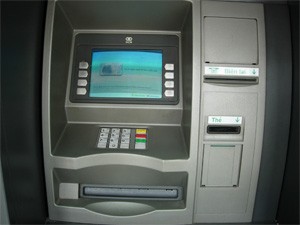 BankNet links ATMs from seven local banks (Photo: Hoang Uy)
They include three State-owned banks – Viet Nam's Bank for Agriculture and Rural Development (Agribank), the Bank of Investment and Development of Viet Nam (BIDV) and the Industrial and Commercial Bank of Viet Nam (ICB); and four joint-stock banks - the Asia Commercial Joint Stock Bank (ACB), Sacombank, the Saigon Industrial and Commercial Bank (Saigon Bank) and the East Asia Commercial Joint Stock Bank (EAB).
After a successful trial run linking ATMs from Saigon Bank, the BIDV and the ICB, BankNet is poised to connect the networks of the BIDV, ICB and Saigon Bank by the end of this month and the remaining four by the end of the year, according to BankNet's CEO Dang Manh Pho.
Mr. Pho also noted that BankNet will also likely connect with Viet Nam Bank Card (VNBC), one of the main domestic shared money networks in the country with 1,000 point of sale terminals and 400 ATMs, since the EAB, ACB, SaigonBank and Sacombank are already members.
He went on to say that BankNet will enable consumers to access their money via cash machines nationwide with a proposed fee of VND3,000 per transaction, of which VND1,000  will go to BankNet as a processing fee and VND2,000 to the ATM's owner if the user is not a client of that bank.
"BankNet is currently working out a fee structure with the banks involved. I believe that consumers will be prepared to pay a nominal fee for the convenience of this service" said Ms. Le Thi Kim Thu, Deputy Director of the BIDV's Card Centre.
At present, the BIDV has some 400 ATMs, Agribank 600 and the ICB 400. BankNet's technical infrastructure has been operational since December last year.