Dalat Palace Golf Club in the upland city of Dalat is gaining attraction from cost-conscious visitors due to its new benefit card scheme.

The card retails at $399 and is valid for a year, entitles its holder to 12 rounds at a layout rated the best in Vietnam.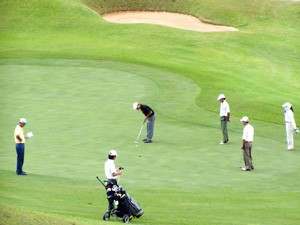 File photo shows golfers playing at Dalat Palace Golf Club (Photo: Tuong Thuy)
The golf club, one of Vietnam's top courses, introduced the Dalat Benefit Card in November 2010 and has seen more than 100 ones snapped up so far.

In addition to access to the course, cardholders pay less for accommodation as they are entitled to a 20% discount on rooms at the 5-star Dalat Palace Hotel and its nearby 4-star Dalat Hotel Du Parc.

The Dalat Palace Hotel is situated on a hill with an overview of Xuan Huong Lake – a symbol of the city, which is also called Petit Paris (Little Paris) of Vietnam. Meanwhile, the golf course is located on another hill on the other side of the lake.

Other advantages afforded to cardholders include a 10% discount on massage/spa at both hotels, 10% off food and beverage at the golf club, and a 10% discount on merchandise in the golf club pro shop.

It is more than 300 km for a road journey to Dalat from Ho Chi Minh City but the flight is just 30 minutes. Flying costs just US$50 each way, daily.

The golf course has history back in the late 1920s, when a 9-hole course was laid out at the behest of Bao Dai, the country's last emperor and an avid golfer. It is completely renovated and expanded in 1995 to welcome golfers of new generations.

The current owner is the Ho Chi Minh City-based Vina Properties Group, which also possesses the Dalat Palace Hotel and Dalat Hotel du Parc.