The European Commission is about to make its final decision on anti-dumping tariffs on shoes with leather uppers from China and Viet Nam. The two possibilities are: 1) It will not change the preliminary decision (16.8%); 2) It will set a quota system based on exports of 2004 and add a 15% increase per year. When either possibility is the case, Viet Nam's footwear industry will be hard hit. 
Influence to economy

The EC has not made its official decision for the case but European importers have not signed import contracts with footwear makers in Viet Nam since early this year, while some others have placed some orders with a wait-and-see attitude. Laborers at footwear producers in Viet Nam are facing a prospect of losing their jobs.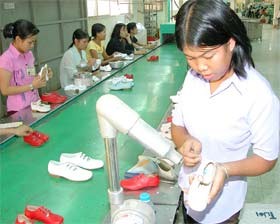 Workers of Que Bang Shoe Company in Ho Chi Minh City produce leather shoes to export to the US (Photo: SGGP)
In the next few months, Viet Nam's footwear exports will drop and so will income of laborers. Now, the average income of a laborer is VND400,000 (about US$25) per month, and at better operating companies, the average is VND800,000 to VND1 million.
Even worse, there is anecdotal evidence that about 20% of orders that would have been for China and Viet Nam are being diverted to Indonesia. Major foreign producers in Viet Nam are considering moving to Indonesia, while two companies have announced plans to build two big-sized factories in Indonesia.
As footwear is one of Viet Nam's major export earners, slow growth in the footwear industry will affect GDP growth this year. The country's footwear exports to Europe have to increase by 19% a year in terms of revenue and hold 20%-22% of the total revenue if the Vietnamese economy is to grow by 8% per year. Viet Nam's major exports to Europe include footwear, clothes, fabrics, electronics, furniture, plastics, motorcycles and parts, and footwear is responsible for over 60% of the total.
How shake-up should be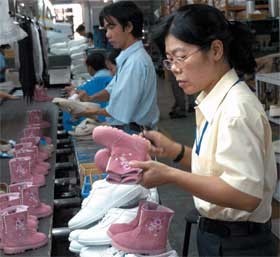 Workers of Legamex Company in Ho Chi Minh City make shoes (Photo: SGGP)
As the EC is against shoes with leather uppers, Vietnamese producers need to diversify their products and shift production to shoes of other kinds, says Nguyen Duc Thuan, vice chairman of the Viet Nam Leather and Footwear Association.
In early months this year, Viet Nam's footwear exports' increase has matched the same period last year. This shows that producers in Viet Nam have diversified their products and export markets to avoid unfavorable impact.
Another positive change in the industry is that among foreign-invested footwear makers in Viet Nam, almost 70% did not have a factory in the country in the past. The companies are financially strong and have many customers in different markets. Therefore, a point here is how Vietnamese companies can navigate the choppy water.
At present, most of Vietnamese companies still rely much on outsourcing contracts from overseas customers, thus relying much on the customers' material supply, and are unable to create new design. Besides, Vietnamese producers do not have their own brands.
Facing the problems, not mentioning the EC anti-dumping tariffs, the industry needs an urgent shake-up, says Deputy Industry Minister Bui Xuan Khu. The first of three immediate tasks is to rapidly shift exports to the US and Japan, where demand for imported footwear is strong. The second task is to focus on the big domestic market. The third task is to invest in new technologies to make high-class items and to avoid producing shoes with leather uppers.