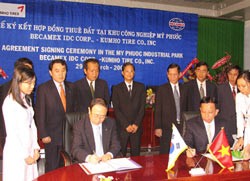 Agreement signing ceremony between Kumho and Becamex. (Photo: T.C.)
Kumho Tires Limited has just inked the contract to lease land at My Phuoc Industrial Zone in Binh Duong, in order to build a plant manufacturing auto tires under the brand Radial. There will be US$380 million to be invested in this project.
In the first phase of the project, US$155 million will be injected to build a 40-hectare plant, starting at the end of this year.
When going into operation, the plant will produce 3.15 million units of products in various kinds. The tires are to be traded domestically or exported to Asia, Europe and America.
With the adding of the biggest Binh Duong foreign direct investment (FDI) project, the number of Korean projects in Binh Duong jumped to 200 out of the total 1,142 projects, promoting the country to the second highest investor.
It also raised Korean total invested capital to US$426 million out of the total US$5,220 million FDI capital in this province, ranking Korea the fourth largest investor.
Kumho Tires is a subsidiary of Kumho Asiana Corporation, founded in 1946 - one of the top ten "chaebol" in Korea by total revenue (estimated at US$13 billion in 2006). Kumho Tires is currently the tenth biggest tire manufacturer worldwide.
"The investing decision of Kumho at My Phuoc Industrial Zone is an important milestone showing the truly attractive investing environment of Binh Duong and Viet Nam", Mr. Nguyen Van Hung, Chairman of Binh Duong Investment and Industrial Development Corporation (Becamex), said in the agreement signing ceremony on March 29.