More than 500 enterprises took part in a seminar on investment promotion for infrastructure projects, industrial and economic zones in the southern province of Binh Phuoc on September 24.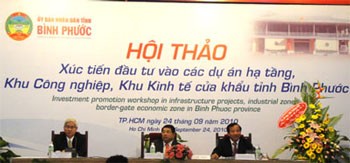 The workshop on investment promotion of Binh Phuoc Province 
The workshop took place in Ho Chi Minh City.

Binh Phuoc is considered as a bridge between Vietnam's highland region and Cambodia. In addition, a trans-Asia railway through the province connecting Vietnam and neighboring countries including Laos, Cambodia, Thailand and Myanmar will be built in the next few years.

Binh Phuoc Province chairman Truong Tan Trieu said that local authorities always create the best conditions for investors and applaud enterprises that have responsibility and outstanding contribution in development of the province.

The province's government also called investment for industrial parks including Dong Xoai No.1, Tan Khai No.1, Chon Thanh No.2, Hoa Lu and others, together with clean water supply projects to provide safe water in industrial zones along the National Road No.13, Chon Thanh Town and Dong Phu area.