With its favourable weather, Vietnam has good potential for farming swifts for edible nests, but local authorities should make zoning plans to ensure the sustainable development of the new industry, a conference heard in HCM City Friday.
Swift nests are high in protein, low in fat, contain various amino acids essential to the human body and other beneficial substances.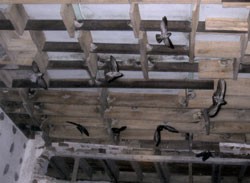 The Yen Viet Trading & Service Co raises swifts. Vietnam has good potential for farming the edible lining of nests made by swifts. (Photo: Vietnam News)
Truong Hoang, deputy director of the city Agriculture and Rural Development Steering Committee, said swifts usually build their nests in deep caves on islands or along steep cliffs. In the past, nests were used only to serve royalty and nobility.
The swift-breeding industry has developed quickly in many places like Indonesia, Malaysia, Thailand, the Philippines, Australia, and Hong Kong, producing more than 100 tonnes of nest annually worth more than US$200 million.
Malaysia and Thailand are the two biggest suppliers, accounting for more than 95 per cent of world output, Hoang said.
The birds also benefit farmers by eating harmful insects, he said.
In Vietnam, the lure of high profits has seen many local and foreign investors invest in breeding the birds indoors in recent years, he said.
Le Huu Hoang, general director of Khanh Hoa Bird Nest Company, said it is not easy to breed the bird.
The buildings for breeding them need to be constructed at locations near their natural habitats and along their natural flight paths while the interiors should be made conducive for their nesting complete with artificial rain and temperature control, he said.
The biggest difficulty is in luring the birds to the houses and keeping them there, he added.
Nguyen Khoa Dieu Thu, a leading swift researcher, said more than 1,000 houses have been built for breeding the birds in 20 provinces and cities.
Vietnam has many places suitable for it, and it is likely to become a profitable industry in the country just like other places in the region.
Besides developing indoor breeding, local authorities should also make efforts to protect the birds in their natural habitats, mostly on islands, she said.
Global demand for bird's nest is expected to increase by more than 10 per cent a year in the next two decades, Le Vo Dinh Tuong of the HCM City Institute of Chemical Technology said.
With supply far below demand, prices have spurted. From a mere $30 per kilo in 1970 the cost increased to $1,500 per kilo last year.
With proper planning, bird's nest could become one of the country's major export items in the near future, he said.
According to recent statistics, Vietnam produces around 10 tonnes of birds' nests a year.