Geruco Sets up another Venture in Laos

The Viet Nam General Rubber Corporation (Geruco) is preparing to establish Quasa Geruco Joint-stock Company to plant rubber and paper trees in Savanakhet Province.
The province in central Laos will be used to develop the next project after the Viet-Lao Rubber Joint-stock company has operated stably in the southern provinces of Laos for two years.

Quasa Geruco Co.'s charter capital is VND120 billion, contributed by Geruco and six other members of Quasa Geruco Co. The company will operate for 50 years.

From 2007-2010, Quasa Geruco plans to plant 4,900 hectares of rubber trees and 3,750 hectares of artificial hybrid acacia trees. An area of 20,000 hectares in provinces of Se Phon and Muong Phin will be totally cultivated afterwards to supply materials to Quang Tri MDF Factory, a wood processing factory whose stocks are mostly owned by Geruco.
Hanwha Group Eyes Oil Refinery in Viet Nam

Hanwha Group, one of the Republic of Korea's leading multi-faceted investment corporations, has the intention of investing in a large-scale oil refinery project in Thanh Hoa Province, reported Deputy Director of the Foreign Investment Department under the Planning and Investment Ministry Nguyen Thi Bich Van after her investment promotion trip to Korea last month.

Scale and details of the project have not been released, but a representative of Hanwha Group is coming to Viet Nam in mid October to begin preparations for the project.

Aside from Hanwha, many corporations from various fields like distribution, realty and steel construction (such as DK-ENC and G/S corporations), also want to make huge investments in Viet Nam, said Ms. Van.
Sumimoto Mitsui, Amata Sign Agreement to Entice Japanese Investors

Yesterday, Japan's Sumitomo Mitsui Banking Corporation (SMBC) signed a memorandum of understanding (MoU) with Amata Industrial Park Viet Nam to jointly support Japanese companies wanting to invest in Viet Nam.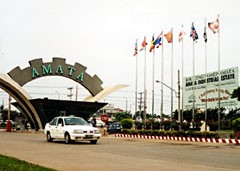 Amata Industrial Park
Under the MoU, the two sides will cooperate in providing information and financial services to Japanese companies, as well as helping to acquire industrial land and auxiliary services for factory management, aiming to boost Japan's investments in Viet Nam.

So far, as many as 94 foreign investors are investing a total of US$800 million in Amata Industrial Park, of which Japanese enterprises account for the plurality with 42 percent.