Vinatex Launches Store Brand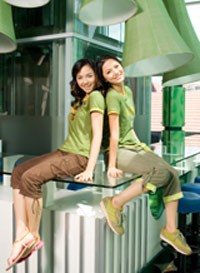 Vinatex fashion
Vietnam National Textile and Garment Group (Vinatex), the country's leading state-run producer of clothes and fabric, has rebranded its 11 supermarkets, six minimarts and 19 fashion shops with the name Vinatex Mart.
Vinatex Mart director Nguyen Thi Hong Huong said the aim was to have 80 stores in the nationwide chain in the not-too-distant future.
Three more Vinatex Mart supermarkets are in the planning stages now - in Ho Chi Minh City, Ha Noi and Binh Duong Province.




Mitsui Sets Up Vietnamese Subsidiary
Mitsui O.S.K. Lines, one of Japan's two biggest shipping companies, has established the wholly owned subsidiary Mitsui O.S.K. Lines (Vietnam) Ltd. with offices in Ho Chi Minh and Ha Noi.
Akimitsu Ashida, president of the new subsidiary, said his company had initial capital of US$3 million and would engage in port logistics, forwarding, warehousing, import-export, marine piloting, and oil and liquid gas transportation.
In the future, the company will expand into container transport and develop the maritime training programs that it began last March, with its Vietnamese partners, to increase the number of Vietnamese seafarers.
The company will also participate in an ongoing container terminal project and tie up with the national shipbuilder.
Mitsui OSK is the second foreign-owned shipper to operate out of Viet Nam, the first being the Danish-owned Maersk Vietnam Ltd.
Rubber Exports to China Grow Again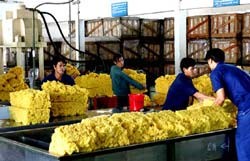 Vietnamese rubber exports to China grow again
Exports of Vietnamese rubber to China via Mong Cai border gate have increased since last week thanks to the increasing demand from Guangdong and Guangxi provinces, Viet Nam's Ministry of Trade reports.
The Chinese are paying 14,300 Yuan per ton, up by 600 Yuan since the first week of September, and importing up to 1,000 tons of rubber a day from Viet Nam.
At present there are 53 Vietnamese companies selling rubber to China via the border crossing at Mong Cai.