The increase in electricity, gasoline and material prices combining with rising interest rates are tough challenges for businesses, piling up pressures on their annual earning targets this year. Directors of local businesses and associations told Dau Tu Tai Chinh Newspaper their solutions to cope with the difficulties.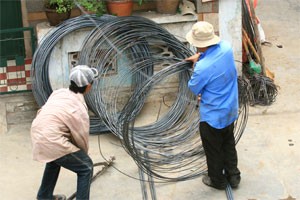 Steel producers are hit hard by the increase in materials, electricity and gasoline prices (Photo:Minh Tri)
General director Nguyen Minh Tuan of clipper maker Kem Nghia
The current difficult time has forced us to cut down our personnel in some departments. We planned to replace those employees with modern equipments in an effort to boost the output.
However, the installation of the equipments only finish next year. With export turnover reaching 60 percent of the sales, we made profits from the stronger US dollars last year. Thus, we can offset some losses.
Nevertheless, we will have to raise the price of our products if the difficulties last too long. At present, we still have to increase our employee salary to help them cope with increasing prices.
General director Ly Nguyen Phuong of cable producer Kim Minh
High interest rates, strong US dollar, increasing electricity and gasoline prices are pushing production expense up sharply, pilling up pressures on businesses like us.
The price of materials including copper, alumina and plastic are also on a rise. We are trying to weather the storm by halting expansion plans, focusing on key markets and investing in technique improvements.
Our firm strives to boost the export rate by 20 percent to 70 percent this year, which will help us to make a profit equal to last year's amount.
Director Huynh Quang Thanh of furniture maker Hiep Long
This year's target of businesses is to survive, not to develop, as the macroeconomic moved above their expectation. All products are rising on the increasing electricity and gasoline prices.
Despite the increase, Hiep Long has to keep our price unchanged in accordance purchase orders. We will be able to raise the price in the next three months at least, increasing by 5 percent to offset the losses.
Our annual growth rate is up to 20 percent, but we expect the rate will be around 5 percent only this year. To survive the difficult time, we installed hi-tech equipments to boost the productivity, cut down personnel and save power.
Chairman Pham Chi Cuong of the Vietnam Steel Association
Steel price increased on the rise in raw materials price. Up to 40 percent of steel ingots for the steel industry are imported from abroad. Therefore, the increase in the global steel ingot price forced local steel makers to raise their prices.
A stronger US dollar also hit steel producers hard. At present, among 32 members of the Vietnam Steel Association, four installed hi-tech technologies in their production, 10 upgraded their equipments, and the remainders still use old technologies.
The remainders are hit hardest by the increasing electricity and gasoline prices as their equipments are aging. Therefore, to survive the difficult time, local steel makers should upgrade their equipments to help cut expenses and not raise prices.
We will not compete with makers from China and other ASEAN countries if we raise our prices too high.