Experts believe that if banks do not lower loan interest rates, many businesses will continue to either go bankrupt or temporarily halt operations.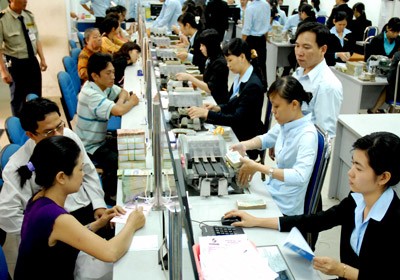 Lower loan interest rates will help businesses increase production and trade activities (Photo: SGGP)
Associate Professor Tran Dinh Thien, head of the Vietnam Economic Institute said that most businesses have shrunk production capacity after facing economic struggle over a long period of time.
Several businesses have been facing serious financial set backs and hence unable to meet bank criteria to avail of loans. Banks too have been overly cautious of lending to businesses, who cannot meet basic criteria.
Mr. Thien said that inflation rate must go down to 6-7 per cent for the loan interest rate to go down as well.
The current loan interest rate of 17-18 per cent is far too high for businesses who are already struggling to survive or maintain status quo.
Loan interest rate in Vietnam is much higher than other countries in the Asian region. For instance, it is about 10 per cent in India, 7.3 per cent in the Philippines, 6.9 per cent in Thailand, 6.6 per cent in China and 5.4 per cent in Singapore.
The high loan interest rate is a big burden on Vietnamese enterprises, reducing their competitiveness, which is already at low ebb.
Pham Thi Thu Hang, secretary general of the Vietnam Chamber of Commerce and Industry said that the Government should continue to stabilise the macro economy, implement effective measures to control and limit inflation as soon as possible and decrease the loan interest rate to a sustainable level.
Experts are also encouraging companies to make other efforts and seek measures to salvage their businesses in the present economic scenario, rather than just wait for banks to lower loan interest rates.
The Business Development Institute advised that enterprises should continue restructuring, increase productivity and apply advanced technology.
The most important thing is to diversify capital resources instead of depending too much on banks.