Top 15 largest domestic fruit & vegetable businesses yesterday signed a pledge about supplying safe agriculture & food production under the witness of Ministry of Agriculture and Rural Development and Vietnam Farmers Association Central Committee at Vietnam Agriculture Exhibition Center in Hanoi.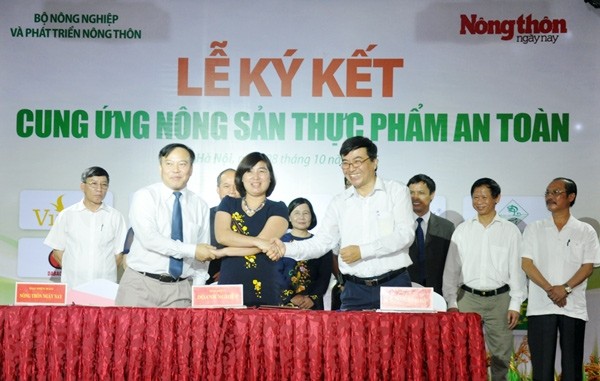 Businesses sign a pledge about fresh agriculture & food production and supply.
The signing targets sending a message about conveying the pledge of sustainable fresh food and health protection for consumers.
Speaking at the ceremony, Deputy Minister of Agriculture and Rural Development Vu Van Tam said that the program contributes creating belief in domestic consumers about fresh and natural food source, and improving the fresh product business in line with food safety standards
From January to September, the country had 382 store series conveying safe food products such as vegetable, egg, meat, tea, rice and seafood. 92 models of these were certificated.
The businesses and companies attended in the event such as TH Group, International Fresh Vegetables and Fruits Production and Supply Joint Stock Company (FVF), Vineco Company- Vingroup, Minh Phu Group, Dabaco Compnay, Ba Huan Company, An Viet, Lenger Vietnam, Que Lam, Vietrap, Dac Loc, Vinafood 1, BigGreen, Vinh Anh Company which pledged to fully implement food safety laws.