Registration of geographical indications (GIs) is a good way to protect trademarks, improve a business' position in the world market and easily enter demanding markets, including the EU, experts said.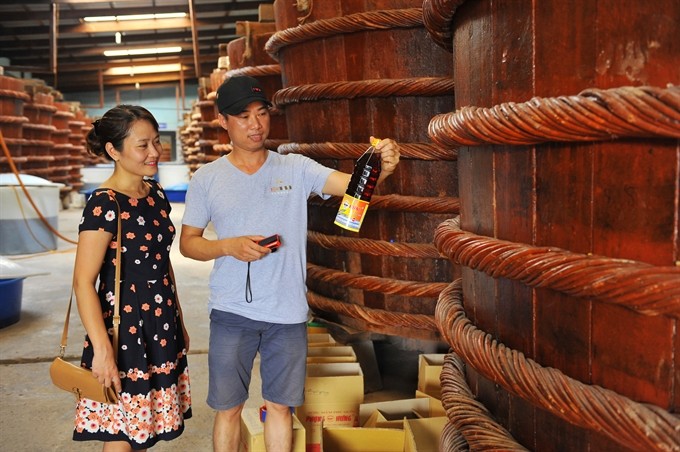 Customers shop for Phú Quốc fish sauce, a speciality of Phú Quốc Island in the southern province of Kiên Giang. Registration of geographical indications will help local firms protect trademarks, improve their position in the world market and easily enter demanding markets. — VNA/VNS Quang Hải
Speaking at the workshop on Commitments on the GIs in the EU-Việt Nam Free Trade Agreement (EVFTA), jointly held by the European Trade Policy and Investment Support Project (EU-MUTRAP) and the Ministry of Science and Technology in Hà Nội yesterday, experts said counterfeit goods had been plaguing the world. Currently, the EU recognises only the Phú Quốc sausage as a Vietnamese GI product out of the 7,000 GIs granted in the major market.
Trần Việt Thanh, deputy minister of Science and Technology, said GI products could be more competitive than other products as they are recognised for their quality and trademark.
"Việt Nam has several high-quality products unique to each locality. However, the issue of GIs should be given attention as the country has only one GI product in the large EU market," Thanh said.
He said businesses have not fully understood the importance of the GI registration. Việt Nam should learn from the experience of working in the demanding market to build a GI management system, thus improving its export value.
Jana Herceg, deputy head of the Economics and Trade Section of the EU Delegation to Việt Nam, said the country had several famous products, such as dragon fruit, coffee and tea.
Viet Nam could exploit these products to benefit from the registration of GIs, she said.
The country should build a national system for quality control when considering and recognising GI protection. This could help the country's products surpass technical barriers to penetrate the EU market, she added.
"GI owners would have both opportunities and challenges. This is why they should focus on enhancing quality, promoting their trademark and marketing their products," she said.
Lưu Đức Thanh, head of the office's GI and international brand division, has said in the past that Việt Nam had been selling a number of well-known products without GIs, which had led to the lack of a legal foundation for dealing with counterfeit goods.

Việt Nam currently has 43 products with registered GIs, varying from flowers, fruit and food to consumer goods. They come from across the country, including Hà Giang Province in the northern mountainous region, Quảng Ninh Province in the northeast, Thanh Hóa Province on the northern central coast and Vĩnh Long or Bạc Liêu in the Mekong Delta, according to Đào Đức Huấn, Director of the Rural Development Centre.

He pointed out the lax exploitation and management of Việt Nam's GIs, resulting in the widespread counterfeiting of GIs domestically and abroad.

An obstacle to GI protection is that producers are working separately. As many producers and farmers have not fully understood the importance of GI protection, they have not attempted to actively co-operate with each other. Instead, they compete unfairly, affecting the creation of products specific to each region.
Huấn also noted the lack of funding for GI registration and overseas market development strategies.
Claudio Dordi, technical assistance team leader of the EU-MUTRAP, said the effective management of GI-registered goods needed the close co-ordination of enterprises, industry associations, local management agencies and independent quality certification bodies in each locality.

Việt Nam and the EU concluded negotiations on their FTA in Brussels last December.
The EVFTA will eliminate 99 per cent of import tariffs on Vietnamese goods delivered to the EU and vice versa after seven to ten years. It is expected to increase Việt Nam's exports to the EU by 4 per cent and EU exports to Việt Nam by more than 3 per cent each year.

The EU is one of the top trade partners of Việt Nam, with bilateral trade increasing from US$17.75 billion in 2010 to $41.4 billion in 2015.