Many companies from the U.S. and Europe have switched their imports from China to Viet Nam due to high prices of Chinese commodities. This is an opportunity for Vietnamese exporters to capture new markets.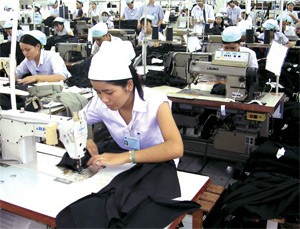 Rising price leads international apparel importers refocus from China to Viet Nam
Opportunities for Vietnamese commodities

Pham Trung Cang, vice chairman of the Viet Nam Plastic Association, said China has currently limited importing used plastics for production and focused on making high value plastic products for automobile, computer and camera industries. 
In many countries, 90 percent of plastic sold are from China. These countries worry that someday Chinese plastics will overwhelm the market so they will have to depend on Chinese suppliers. Therefore, imports of plastics as well as other products from China will be restricted.  
"Vietnamese exporters will have to deal "crazily" if they can take over orders that are worth only five percent of all export turnovers of Chinese plastics," said Mr. Cang. 
At a recent meeting of the Association of Garment Textile Embroidery and Knitting (Agtek), enterprises agreed that garment importers of big markets such as the U.S., EU and Japan have gradually switched to the Vietnamese market because China has lost its advantage in low prices.  
A garment exporter said, "We will have to work all year round to fill orders if we share only five or ten percent of orders with China." 
Sarah Benecke, Global Sources executive director, said over 70 percent of imported commodities in countries which Global Sources work with come from China.  At present, these countries have reduced Chinese imports due to increasing prices of Chinese products.  
Therefore, she said, Global Sources has come to Viet Nam to promote exports for the country has a great economic potential. 
More new importers
Mr. Cang said quality and design of Vietnamese normal plastic products are as same as Chinese ones, thus plastic enterprises should fearlessly step up exporting their products to the U.S. and EU. This is a chance for the domestic plastic sector to develop. 
"In order to take advantage of the depression of Chinese products, the earlier Vietnamese companies boost their exports the more importers they will get," he added. 
For the apparel sector, Vietnamese exporters are having a golden opportunity to develop their business because Chinese clothes prices are rising, in addition, chemical and dyeing plants have been temporarily closed for three months because of the Olympic. 
Agtek vice chairman Diep Thanh Kiet said the Chinese garment sector can't be going well when chemical and dyeing plants in China are closed. This is a big opportunity for Vietnamese exporters for Viet Nam is close to China and Vietnamese products are cheaper than the same kinds in other countries. 
In addition, the apparel sector has had more new customers and orders over the past few months. Once foreign countries import Vietnamese clothes, they will continue to do for they like stable business. It matters that whether exporters want to take this occasion to seek bigger contracts with good prices to establish a better foundation for export, Mr. Kiet added. 
Phan Thi Dieu, deputy director of the Export-Import Department under the Ministry of Industry and Trade, said in spite of crude oil price hike and depression of the US dollar, the country's export activities have been going well. 
For instance, apparel enterprises have expanded their export markets. In the first half of this year, exports to EU increased by 23 percent, and Japan by 10 percent over last year, she said.  
Vietnamese clothing exports to Japan will not be levied tax when the two countries are going to sign the Economic Partnership Agreement, she added.