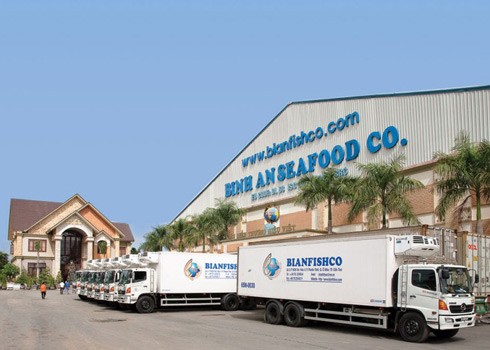 The Bianfishco factory
The People's Committee in the Mekong delta city of Can Tho on April 5 announced that the beleaguered Binh An Seafood Company (Bianfishco) has liabilities of VND1.54 trillion (US$74 million) while its total assets are VND2 trillion (US$99 million).
Can Tho City authorities announced the company's audit results of 2010 and the present debts of Bianfishco, at a press conference to discuss this high profile issue.
According to Vo Thanh Hung, chief of the financial inspection team looking into the affairs of Bianfishco, the audit financial statements in 2010 and also various other sources showed that the debt-crippled company Bianfishco owed VND1.54 trillion (US$74 million) including VND1.27 trillion ($59 million) to nine banks and one credit institution; VND261 billion to fish farmers and VND3 billion to an insurance company.
Meanwhile the total assets of Bianfishco were only around VND2 trillion ($99 million), including VND1.18 billion in short-term investments and over VND891 billion in long-term debts.
However, according to the latest figures in the financial statements, the company still owes 10 companies VND27.7 billion (US$1.32 million).
The Can Tho City People's Committee ordered the debt-ridden company to conduct an audit of financial statements of 2011; take stock of its assets; call a special shareholders meeting and complete all necessary legal procedures.
As the meeting produced unsatisfactory answers to questions relating to the health of Pham Thi Dieu Hien, CEO of Bianfishco, Vo Thanh Thong, deputy chairman of the municipal people's committee, proposed another meeting to give detailed information.
Bianfishco labourers had been laid off indefinitely and the labour union leaders of the Can Tho export-processing zone and industrial park said that three companies in the Mekong delta provinces of Dong Thap, Hau Giang and Vinh Long were willing to provide around 1,000 workers for VND3.5 million-VND5 million per month as well as accommodation.