Can Tho City authorities and company executives met Thursday to discuss ways to hasten purchase of the rice and catfish stocks that have been piling up with farmers.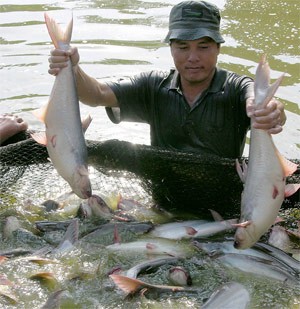 Though the Government has introduced measures to encourage buying, sales of catfish remain low in the Mekong Delta
Officials from the Can Tho Industry and Trade Department said the Industry and Trade Ministry should encourage processors to buy fully-grown catfish from farmers, introduce a minimum price, and monitor the volume of catfish exports.
 
Only processors should be allowed to export, and not traders, to avoid competition at home and the resultant price drops, they added.
 
Can Tho has earned US$290 million from exporting 110,000 tons of aquatic produce this year.
 
It has also exported 313,000 tons of rice for US$176.7 million, a 46.3 percent year-on-year increase.
 
After Prime Minister Nguyen Tan Dung instructed authorities and food corporations on August 7 to take urgent measures to buy more rice from farmers, local enterprises have bought 120,000 tons. Farmers are still sitting on 118,700 tons of stock or so.
 
As for catfish, enterprises bought 22,500 tons in the past two months. But farmers still have 49,000 tons, of which 23,000 tons are large fish.  Enterprises are currently buying 500 tons a day.
 
Le Viet Hai, director of the Mekong Company, attributed the low demand for rice and catfish to the depressed market, enterprises' lack of funds, and constant power outages.
 
Though the Government has introduced many measures to encourage buying, sales remain low.
 
Enterprises said more assistance is needed from banks and farmers need to take the initiative to preserve paddy.
 
Banks should offer loan moratoriums and provide further loans to farmers so that they can plant their next crop without having to sell their existing stockpiles at distress prices, instead storing the paddy at home, said farmers.
 
Bui Huu Tri, chairman of the Can Tho Fisheries Association, said the best way for banks to help farmers now is to continue providing them with loans.
 
In the longer term, he said, official agencies should draft a plan to develop farming in the Mekong Delta.
 
There should be clear regulations for licensing catfish farming to prevent everyone from jumping into it and destabilizing the sector, he added.
 
Elsewhere yesterday the Vietnam Export Import Commercial Joint-Stock Bank (Eximbank) apprised Mekong Delta importers and exporters of its credit and exchange rate insurance services.
 
The bank said it has earmarked VND2 trillion ($119.7 million) for the program that will last until the end of 2008.