Auto sales in Viet Nam have reversed a two-month decline and are in fact up by 91% year-on-year and by 49% from February, according to the Viet Nam Automobile Manufacturers Association.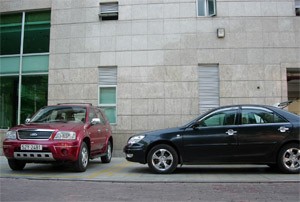 Classy cars in Ho Chi Minh City's street (Photo: Hoang Uy)
The industry body says its members reported combined March sales of 4,469 units, with MPVs and SUVs accounting for 1,428.
Toyota's Innova was the best-selling MPV with 849 cars sold, followed by Ford's Everest 194 and the Vidamco 188.
With sedan models, on the other hand, sales of the Honda Civic fell by 17 units in March compared to February because of a technical problem.
Toyota's Altis and Vios, by contrast, enjoyed respective increases of 15 and 61 over the previous month. The Japanese carmaker was also happy to see its high-profile 2007 Camry selling strongly as usual, going up from 66 units in February to 192 units in March.
Toyota was the month's biggest mover with 1,310 cars sold, followed by Truong Hai Auto with 719 and Vinaxuki with 504. The local market is eagerly awaiting the launch of Truong Hai's low-priced five-seat model priced between US$20,000 and US$30,000.
Rising demand for imported cars
There's an increasing demand for imported cars in preference to made-in-Viet Nam. Sensing this, manufacturers like Hyundai, Kia, Rover, Nissan, BMW and Peugeot have brought out many classy models.
The locals tend to favor imported cars due to their acceptable price and quality. Instead of getting a locally made vehicle, a company executive in Ha Noi has decided to pay US$36,000 for an imported Daihatsu Terios. "Several years ago I couldn't get an imported car of that quality at that price," he said.
The high demand for imported cars may be due to the booming stock market in Viet Nam.
Many local auto dealers report that stockbrokers and profit-taking investors are among their best clients. They usually want something like a BMW X5, Lexus RX330, Lexus RX350 or Lexus G470.
For small-time stock market investors, their preferred choice is a Toyota Yaris, Chevrolet Captiva, Nissan X-Trail or Santa Fe.