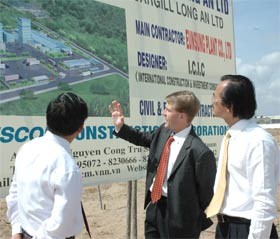 Cargill Vietnam general director Scott Ainslie (C) introduces details of the new plant to Long An Province representatives (Photo: Tuong Thuy)
US company Cargill Vietnam broke ground for an animal feed factory in the Mekong Delta province of Long An on March 22, putting the total of its factories in Viet Nam to six.
The facility, which will be built at a cost of US$12 million on four hectares in Thuan Dao Industrial Park, is designed to produce 150,000 tons of feed for pigs and poultry a year. It will help the company increase its animal feed processing capacity in Viet Nam to more than 700,000 tons a year.
The new factory, planned to start operation in early 2007, will also distribute fish feed produced by the company's four other factories in the south, home to many fish farms on and along numerous rivers.
Cargill Vietnam general director Scott Ainslie said at the groundbreaking ceremony that Viet Nam is a promising market for animal feed and his company plans to build two or three more factories in the country by 2010.
Cargill Vietnam is now employing 400 workers and supplying more than 100 kinds of animal feed. The company also exports Vietnamese farm produce and imports animal meat and fertilizers.
Cargill of the US came to Viet Nam in 1995, soon after the two countries normalized relations. It is operating two factories in the Mekong Delta city of Can Tho and one in Long An, Dong Nai and Hung Yen provinces each. Cargill representatives joined a US trade mission to Viet Nam, from March 8 to 11, to sound out business opportunities and back the country's World Trade Organization accession.