While Viet Nam has surpassed India to become the world's top cashew-nut exporter, doubts abound about how long the nation can hold onto top spot. The sector faces several challenges in terms of funding, labor supplies and international food-hygiene standards.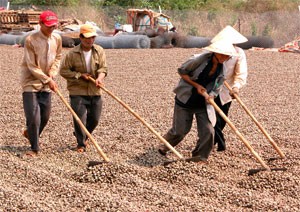 Drying cashew nuts at a farm in Binh Phuoc Province
Cashew exports have achieved the highest growth among Viet Nam's perennial agricultural products, making Viet Nam the world's number-one cashew-nut exporter in 2006 and creating jobs for 500,000 laborers.
 
But cashew farmers' incomes remain low, only VND20 million (US$1,250) per hectare while rubber tree growers' earn VND60-70 million (US$3,750-4,375) per hectare and cocoa tree growers gain VND70 million (US$4,375) per hectare. 

Funding
 
As well, cashew nut processors are not eligible for preferential loans from banks and can only receive short-term loans based on harvest cycles. Yet, because manually processing cashews is a time-consuming task, farmers often find themselves competing for loans all at once at the eleventh hour.
 
As well, the costs of inputs into cashew-tree nursing and harvesting as well as cashew-nut processing now often exceed the returns available to exporters forced to accept international commodity-market prices.
 
Viet Nam Cashew Association Vice Chairman Nguyen Thai Hoc also noted that when cashew-nut processing plants run short of cash, banks often reduce loans available to them by up to 50 percent, further cramping their operations.

Labor Supplies 

The labor-intensive sector is also facing difficulty in recruiting workers because new provincial industrial zones are siphoning off large numbers of workers from the agricultural sector.
 
To keep sufficient workers, cashew producers have had to raise wages, increasing their production costs by over 10 percent and workers' wage requirements are only expected to keep rising.
 
Several cashew processing plants now find themselves reduced to operating at only 50-60 percent of their capacity due to lack of labor and situation is expected to worsen next year.
 
Cashew producers say two solutions to the problem exist, raising wages or upgrading their technologies for detaching and processing nuts. But both options would increase costs over the short term at least.
 
They add that Viet Nam has taken over India's top position because Indian producers have been facing their own labor shortage, causing a sharp drop in their export volumes, and Viet Nam is expected to suffer a similar fate if its producers do not soon invest in more cost-effective processing technologies.
 
Some propose Government vigorously support research into local innovations in processing technologies because the costs of importing processing equipment remain infeasible.
 
For example, some processing plants have already imported Italian processing machines to peel the silky husks off nuts. But one machine costs hundreds of thousands of US dollars and can only reduce labor requirements by 20-30 workers.
 
Food hygiene

Another problem cashew producers face arises from importers' food-hygiene requirements. An official from the Vietnam Cashew Association (Vinacas) said the American Food Industry (AFI) has issued new standards on food hygiene.
 
If the US, which imports 40 percent of Viet Nam's cashew exports, applies the stricter standards, EU nations are likely to follow. Yet over 60 percent of Vietnamese cashew exporters have yet to meet US hygiene standards.
 
For all these reasons, the Ministry of Agriculture and Rural Development forecast that the area of cashew plants will be reduced from 465,000 hectares to 400,000 by 2010 as farmers convert the land from cashew plantations to more profitable crops.