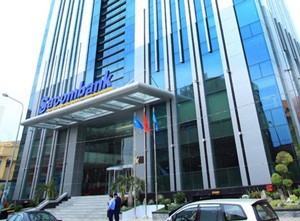 (File photo)
Saigon Thuong Tin Commercial Joint Stock Bank (Sacombank) is operating normally, the State Bank of Vietnam affirmed Wednesday, saying rumor that Eximbank was acquiring Sacombank was unofficial and groundless.
Ho Chi Minh City-based Sacombank is operating stably with healthy financial capacity and safe capital adequacy ratio as required by the State Bank, the central bank said in a message released in the afternoon.
Sacombank has just been rated 'stable' by international credit rating companies like Moody's and Standard & Poor's, the message wrote.
Sacombank is one of Vietnam's largest commercial joint stock banks in terms of total assets and operational network, said the State Bank.
The central bank added it was seeking to make clear about information that Sacombank is being bought by some other banks.
A few days ago, Eximbank sent a request to Sacombank to ask a re-election of Sacombank's board of directors and supervising panel. On Wednesday, the Sacombank Labor Union, on behalf of its 10,000 members, sent a document to the Central Committee of the Fatherland Front, Federation of Labor Unions, Ho Chi Minh City Committee of the Fatherland Front, Ho Chi Minh City Association of Labor Unions and the central bank's labor union, calling for guidelines to deal with information about such acquisition.