Vietnam has opened up its pharmaceutical market this year as part of its World Trade Organization commitments, putting domestic firms under greater pressure.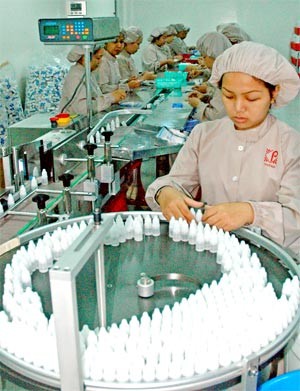 At Pharmedic Company
Last year 68 foreign drug companies registered to operate in Vietnam, taking the total number to 438.
 
Around 2,300 foreign-made drugs were licensed for distribution by the end of last year.
 
Imports account for 60 percent of the drug sales, while 22 percent of medicines made in the country are produced by foreign firms.
 
Even local companies are almost completely dependent on imported raw materials to produce drugs.
 
Deputy Minister of Health Cao Minh Quang said, however, that Vietnam would scrupulously implement its WTO commitments though this would intensify competition for local firms.
 
Foreign drug firms operating in Vietnam have been allowed to directly import and distribute medicines since January 1, he said.
 
But those without a representative office in Vietnam can only import and not distribute, he said.
 
To develop the domestic industry, the Government plans to increase the number of international-standard drug plants by over 55 percent and build plants to make raw materials.
 
Domestic firms said they would tie up to establish pharmaceutical groups to strengthen their competitiveness against foreign rivals.