The representative office of Chile's Export Promotion Bureau officially opened in Ho Chi Minh yesterday.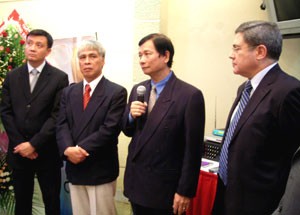 Chilean Ambassador to Viet Nam Jorge Canelas (1st R) at the opening ceremonay
The new office will represent Chile for the entire Southeast Asian area and will be directed by Chilean Trade Attaché Nestor Riveros.
 
At the opening ceremony, Chilean Ambassador to Viet Nam Jorge Canelas said that a business delegation of 18 Chilean enterprises is visiting HCMC to join the event and seek business opportunities in Viet Nam.
 
Chilean companies are very interested in expanding their economic cooperation with their Vietnamese partners. The visit is a good chance for small to medium enterprises of the two countries to establish trade relations and to develop their businesses to be more in line with the potential of the two nations, added Mr. Canelas.
 
With the assistance of the office, a delegation of small to medium enterprises from HCMC will visit Chile to do business and invest in the country in June.
 
Vietnamese enterprises consider Chile to be a means to penetrate the European and Latin markets as Chile is well positioned geographically and has a lot of economic potential.
 
Two-way trade between the two countries has amounted to US$136.6 million so far, of which Viet Nam's export turnover to Chile is US$53.6 million. Trade is expected to reach US$300 million by 2009.
 
Chile mainly exports cod-liver oil, fresh fruits, wine, timber and processed salmon to Viet Nam, while importing coffee and sports shoes.
 
Viet Nam and Chile established diplomatic relations on March 25, 1971. The country opened its embassy in Viet Nam in 1973 under President Salvador Allende's administration but was later closed. It reopened its representative agency here in June 2005.