The Central Institute for Economic Management hosted a seminar on the improvement of business environment and national competitiveness on June 4.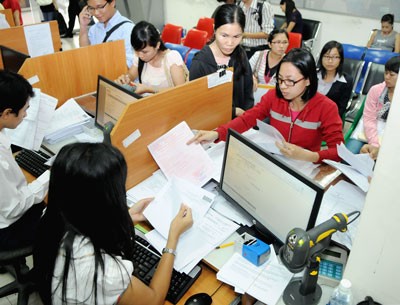 Businesses pay tax at the Ho Chi Minh Taxation Department (Photo: SGGP)
The Government has issued Resolution 19 on measures to improve the business environment and the national competitiveness in March, said the institute head Dr. Nguyen Dinh Cung, .
However, the resolution has been implemented rather slowly by related ministries while only one third of provinces have built action plans.
The resolution aims to carry out administrative reform as a result of cutting short time and costs on tax payment and customs clearance, he added
However, the most difficult issue is how to cut the tax payment time from 872 hours down 171 hours per year, according to WB.
Tax agencies have made a lot of efforts but seemed unable to considerably reduce tax payment time and costs, said Hoang Thi Lan Anh, deputy head of the Committee for Reforms and Modernization of the General Department of Taxation.
Of the measures, taxation declaration software has been built and is used by over 90 percent of companies for online tax payment since 2013.
According to World Bank, the tax payment time is related to social insurance payment of businesses, she said.
As a result, Dr. Cung proposed a synchronous cooperation among authorized agencies to improve the business environment.
Vietnam's export and import turnover reaches US$270 billion now, he added. Administrative reform will reduce costs, increase profit and value added for businesses. Capital turnover will be quicker making the economy more dynamic.