Many modern cinema complexes including cinema theaters, shopping centers and restaurants are doing lucrative business in Ho Chi Minh City and Hanoi.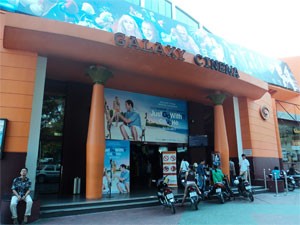 View of Galaxy Cinema Complex on Nguyen Du Street in HCMC's District 1. With the newborn 3D movies, cinema business is getting more lucrative (Photo:Minh Tri)
"It takes around VND30-60 billion (US$1.5-3 million) to build a modern cinema complex, with seven cinemas providing 1,200-1,400 seats," said Pham Van Thanh, director of the BHD StarCinema.
"Moreover, with the rate of return up to 20 percent per year and many market shares remain available, investment in the cinema business is attractive".
Cinema complex owners in the city said sales not only came from tickets, but also from beverages, foods and souvenirs.
Statistics from market researchers local consumption behavior at cinema theaters has been changed significantly since cinema complexes made debut in Vietnam, getting eager to spend more.
Megastar cinema complexes with nice designs of lounge rooms, and hi-quality sound and picture, sell tickets at the price of VND80,000 ($4) per person for 2D movies and VND150,000 for 3D.
Their arch rival in town is Charlotte, offering ticket prices of up to VND250,000 per customer ($12.5). They offer customers luxurious lounge rooms and high-class cinema rooms with spacious seats.
Other cinema complexes including Galaxy and BHD StarCinema sell tickets at a lower price of VND50,000-70,000 for 2D and VND100,000 for 3D.
Brian Hall, chairman of the Megastar Media JSC, said "The Los Angeles in the State has around 19 million people with more than 2,000 cinemas, which see one cinema is geared to nearly 10,000 people".
"The total population of both Hanoi and HCMC is 13.7 million, but there are only less than 100 cinemas, which see the rate of one cinema for 137,000 people".
"Moreover, cinemas in the country's leading tourist cities including Nha Trang and Da Lat are extremely in bad condition. Therefore, investments in cinema business are very promising".
While modern cinemas appear at Hanoi and HCMC only, cinemas at the Mekong Delta's provinces are almost abandoned, said Duong Cam Thuy, chairwoman of the Vietnam Film Association.
"The problem is the consumption behavior at those areas, which remain strict with entertainment spending," Thuy said.
Experts said a modern cinema complex required restaurants, shopping centers, cinema rooms with top-notch equipments including spacious and comfortable seats and hi-tech projectors automatically controlled by software programs.