Houses built specially for birds' nests have brought handsome profits to many people in Ho Chi Minh City and Tien Giang Province in the Mekong Delta since the business first started ten years ago.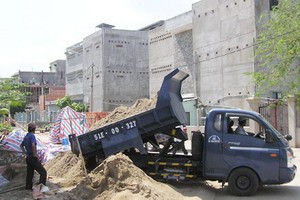 A truck drops materials to build bird nest house at a village in Tien Giang Province
Land price at Tam Thon Hiep Commune of HCMC's Can Gio District has surged since the swiftlets came. People from other places bought land to build houses for the birds.
A local woman named Ba just earned more than VND1 billion (US$48,560) selling a piece of land more than 200 square meters. Ba said she doesn't have money to build bird nest houses, so she sold land to others who can. "The birds are God's blessing, whoever can have it have it."
It costs around VND700-800 million to turn a normal house into one for bird nests and more than VND1.5 billion to build a brand new house for bird nests, including wood for the nests, sound equipment to attract the birds, and the equipment to create humidity for the house.
According to locals, a house of a Malaysian man in the area attracts the most birds, producing more than ten kilograms of bird nests every month.
Raw bird nests in the commune are sold at more than VND40 million a kilo, depending on how the nest looks. The commune also has a store selling bird nests in small plastic boxes.
Each box of 100 grams is sold at VND4 million, which the shop owner said is much cheaper than in HCMC, where bird nests are put in prettier wrappings.
People Can Gio District started to raise swiftlets for their nests in 2006 and the number of bird nest houses has increased faster then expected by local authorities. The district is now home to 77 bird nest houses and 69 of them are invested by outsiders.
The Southern Institute of Science and Technology, based in HCMC, has set up several houses at the commune to study swiftlet development.
Le Vo Dinh Tuong, an expert from the Institute of Chemistry Technology, said that if invested properly, a bird nest house of six square meters, can receive one kilogram of bird nests worth around VND30 million a year.
The business pays back quickly, after three to five years, and the investors do not have to spend on food or work staff as the birds handle everything itself, Tuong said.
Birds' home
Go Cong Town in Tien Giang Province made many headlines of bird nest houses in recent years.
A total of 32 multi-story houses for swiftlets have been built in Long Binh Commune of the province. The HCMC-based Vietnam-Australia Service and Construction, Ltd. is investing more than $1 million in five more houses.
Muoi Thiet, the first swiftlet raiser in the area, recalled that the birds came to him as a destiny.
In 1988, he was handed a two-story house, which already had some swiftlets there as the house had been left unused for nearly 20 years.
"My children then tried to chase the birds away, but they kept staying, living among us. So I let them stay," Thiet said.
Then he saw the birds making milky nests. He told the story to a partner in Khanh Hoa, the land of bird nests in the central coast, and was told to sell the nests.
Thiet said he didn't know anything about bird nests at the time, thus he broke them when trying to remove them from the house, yet he still earned VND600,000 from 240 grams of the nests in 1989.
Since then, his family moved out to save the houses for the birds, which have come more and gave birth to many. Each kilogram of bird nest from Long Binh sells at VND40-42 million, and a processed one VND60 million.
Thiet said birds from his house can make around seven kilograms of nests in 10 days during prime time.