Voters in HCM City yesterday praised National Assembly deputies for their open discussions on shortcomings in criminal procedural activities. They were attending a meeting with President Truong Tan Sang and the city's National Assembly delegation.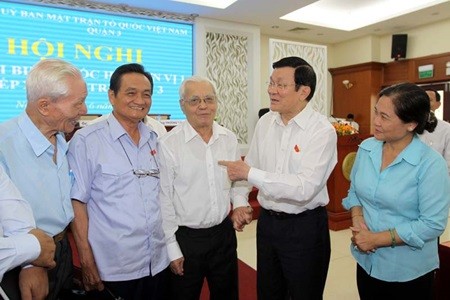 President Truong Tan Sang (second from right) meets with voters in HCM City yesterday. VNA/VNS Photo Nguyen Khang
They highlighted socio-economic achievements and also pointed out difficulties in agricultural production, slow administrative reforms and a high rate of public debt.
They asked the Government to adopt measures to stabilise consumption prices, particularly oil, fuel and electricity costs.
They also expressed concern over education reform while admitting it was necessary to provide training to meet the demands of the job market.
In response to voters' concerns about the defence of the sea and islands and protection of Vietnamese fishermen, President Sang said that national sovereignty was sacred.
He said Viet Nam opposed wrongdoing in the East Sea and was carrying out several measures to defend national sovereignty. Sang said the Vietnamese Party and State always supported fishermen to make a living.
"Caring for fishermen is a major focus of Viet Nam's maritime strategy. The National Assembly and the Government have invested several trillion dong to help fishermen build new ships with preferential loans. If their ships are attacked by other ships from China or other countries, they will receive prompt assistance," he said.
President Sang welcomed voters' comments, saying that he himself and other NA deputies treated them with due concern. He asked NA deputies to always express the truth and stand up for people's rights