Price of desiccated coconuts in the Mekong Delta region have fallen considerably within the last four months, from VND140,000-150,000, with retail price of a dozen coconuts now costing VND34,000-40,000.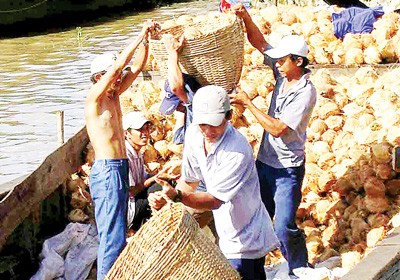 Price of desiccated coconuts has declined sharply in recent months (Photo:SGGP)
Farmers in Tra Vinh, Tien Giang, Vinh Long and Ben Tre Provinces have been affected as a result.
Vo Thi Hai, from Phuoc Long Commune of Giong Trom District in Ben Tre Province said she cannot understand why coconut prices have dropped so sharply and suddenly. Farmers had sold coconuts at VND147,000 for a dozen in October 2011, but just before Tet they sold for as little as VND55,000 for one dozen, added Hai.
Most farmers in the province live on income from coconuts but now falling rates are worrying them. At even VND38,000 per dozen, there are few buyers.
Vo Thanh Thuong, from Hung Phong Commune of Giong Tom District in Ben Tre Province said that he agreed to sell coconuts at VND36,000 per dozen yesterday, but today traders have rejected that price and he believes the price will fall even further.
He said that at the current price, farmers will not earn enough money to cover their costs. If this situation continues, farmers will cut down their coconut groves.
Ho Vinh Sang, chairman of Ben Tre Coconut Association said that the price of coconut decreased by 70 per cent in a very short time, causing difficulties for 40,000 households, who survive on income from coconuts.
Many farmers in Ben Tre Province, the country's biggest coconut growing area, are considering cutting down their groves. Some along Ham Long River in Giong Tom District have already begun the process to make way for white-leg shrimp and tra fish (pangasius) breeding ponds.
Cause of fall in price
Ben Tre Province currently has 52,500 hectares under coconut cultivation, with an output of 424 million coconuts per year, of which 10-12 per cent are for consumption as fresh coconut water, and the remaining are processed.
There are 70 enterprises and 1,400 units processing coconuts that also create 50,000 jobs. 90 per cent of the coconut products are exported to 80 countries and territories.
The director of a coconut processing unit said that the cause of fall in coconut prices has been affected by the world market. Currently, the EU countries, North Africa and the Middle East, consumers of about 50 per cent of coconuts from Vietnam, are facing difficulties. Hence, coconut demand has been decreasing, resulting in a drop from US$2,900 per tonne to $1,300-1,500 per tonne.
Another reason causing fall in coconut prices has been the demand in China has also been decreasing.
Sang, chairman of the Ben Tre Coconut Association said that China currently consumes 35 per cent of coconuts from Ben Tre Province, hence fall in consumption has also resulted in fall in coconut prices.