The country exported an estimated 100,000 tonnes of coffee in January, earning a turnover of more than US$200 million, according to the Agriculture and Rural Development Ministry.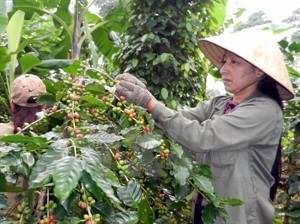 A farmer harvests coffee (Photo: VNA)
The exports, however, represented a year-on-year decrease of 28.9 percent in volume and 23.6 percent in value, the ministry noted.
Vietnam is currently the world's leading exporter of robusta coffee. Last year, the nation earned US$3.62 billion from shipping 1.73 million tonnes of coffee abroad, up 33.4 percent in volume and 32.2 percent in value.
Germany and the United States remained the two largest importers of Vietnamese coffee in 2014, accounting for 14.13 percent and 10.17 percent respectively of the country's total coffee export turnover.