Despite the worsening global economic crisis, a growing number of companies in Vietnam are planning to recruit more workers in the near future.
A survey conducted in March by the recruitment and integrated human resources solutions provider Navigos Group indicates that 67 percent of the 91 polled companies, of which 58 percent are wholly foreign-invested enterprises, plan to hire more staff over the next six months.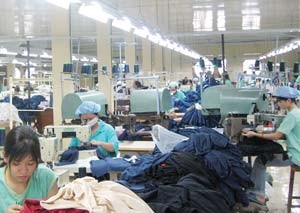 An increasing number of companies in Vietnam have plans to take in employees in the near future, according to the survey. (Photo: SGGP)
The poll also found that 59 percent of the surveyed companies had increased salaries between the fourth quarter of 2008 and the first quarter of 2009.
In particular, close to 40 percent of the respondents said they would keep allowances this year at the same level as offered last year.
In fact, the recruitment of more workers is considered as a measure to help businesses restructure their personnel systems as they are still laying off those who proved to work ineffectively.
However, the survey results can be seen as a positive sign amid the world economic downturn as another survey jointly conducted in February by TalentNet and its partner Mercer shows that only 40 percent of the targeted firms plan to employ more workers.
TalentNet (Vietnam), a search and human resource consulting company, and Mercer, a leading provider of consulting and outsourcing investment services from the US, surveyed 120 businesses in Vietnam, 96 percent of which are foreign-invested enterprises.