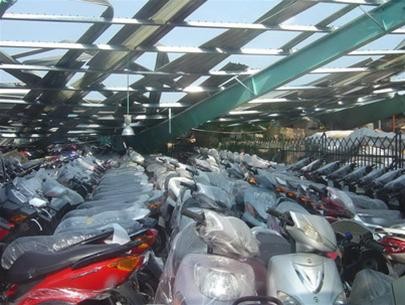 A workshop of Heasun Mechanical Factory is destroyed by the typhoon
The damage wrought by Typhoon Xangsane has pushed dozens of enterprises in the central coast provinces to the verge of bankruptcy and placed tens of thousands of jobs in jeopardy.
Heasun Mechanical Factory, which employed over 800 skilled men and women, is one of the many ruined factories in Da Nang. The giant storm razed the company's 100 hectares of workshops to the ground and destroyed more than 1,700 motorbikes.
The factory's director, Mr. Nguyen Thanh Phuong, suggests the cost to the company could climb to VND150 billion, so it is planning to lay off three fifths of the workforce for 12 months.
Another concern for management is that many of the laid-off workers might not return after their year off.
"If this happened, it would be very expensive to train new employees, so we must retain our workers at any price", Mr. Phuong told reporters.
Also victimized by the storm was Da Nang Central Pharmaceutical Company No. 5, which lost all its medicines to the surging waters and reckons the cost to be an unprecedented VND20 billion.
In Hoa Khanh Industrial Park, the small timber-processing firm Nam Thai must spend more than VND1 billion to restore production after the violent winds tore off the factory roof and ripped through the plant.
Trouble is that Nam Thai was not insured against natural disaster. "I'm hoping that the government will intervene to help companies like us. If not, we'll all go bankrupt", director Mr. Thai Dung said.
The management of Da Nang Export Processing Zone affirmed that Xangsane, the sixth typhoon to strike Viet Nam this year, had disrupted production at many companies.
Hoa Khanh Industrial Zone and Thanh Vinh Industrial Complex were the worst hit and estimate their damage bill in the hundreds of billions of dong. In the immediate aftermath of the storm, more than 20,000 out of the 35,000 workers in the two zones were laid off.
"It will take at least four months to repair the wrecked factories and resume production", said one industrial overseer.
 
Many companies say they cannot hope to recover without help from the banks and the local authorities.