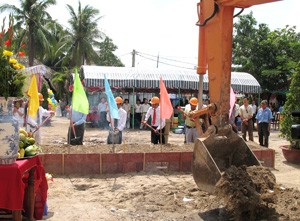 File photo shows a groundbreaking ceremony for a housing project in Ho Chi Minh City (Photo: Van Bao)
The Ministry of Construction has proposed the State Bank of Vietnam to study an idea by the Vietnam Real Estate Association to set up a construction bank.
Deputy Minister Nguyen Tran Nam is of the view that such a bank would facilitate Vietnam's housing development programs such as homes for the poor, students, low-income people in urban areas, and even building materials production programs.
This bank would benefit other programs in the construction sector, according to him. In addition, it would serve as an effective channel to mobilize capital for the real estate market.
In related news, Mr. Nguyen Manh Ha, chief of the House and Real Estate Administration Division, said the Ministry of Construction would submit to the Government a scheme to establish a savings fund for housing development.