The 2012 Consultative Group Meeting for Vietnam officially kicked off in Hanoi this morning, December 10, with a view to creating a firm foundation for sustainable growth.
Prime Minister Nguyen Tan Dung attended the meeting. Notably, in addition to the usual participants this year the meeting was also attended by Myanmar, a country on the path to international integration and partnership building.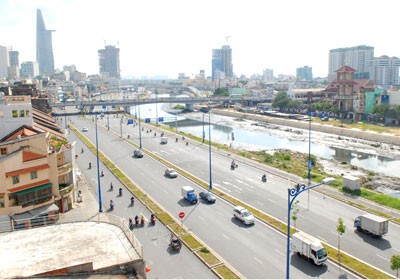 Vo Van Kiet Boulevard--a facility using foreign capital efficiently (Photo: CAO THANG SGGP)
Addressing the opening ceremony, Minister of Planning and Investment Bui Quang Vinh highlighted Vietnam's remarkable achievements in recent years and pointed out challenges facing the country in the future.
He affirmed that the Government is speeding up the disbursement process and increasing the efficiency of Official Assistance Development (ODA) for national development.
He called on international donors to continue providing Vietnam with more ODA funding, which he said, is a valuable source for the country's poverty reduction and development programs.
"We commit to cooperate closely with international donors to improve the effectiveness of ODA disbursement and conduct negotiations in a more effective manner," Vinh said.
Country Director of the World Bank in Vietnam, Victoria Kwawa, spoke highly of Vietnam's macro-economic achievements over the years. However, she said, the country's competitiveness remains low, resulting in modest economic growth. It requires stronger commitments from the Government to consolidate people's trust and get the country out of the middle-income group.
She voiced support for Vietnam's preferential tariff policies, but urged the country to focus on improving the quality of human resource training and education, and dealing with land-related issues.
Japanese Ambassador to Vietnam, Tanizaki Yasuaki, suggested renewing growth models to ensure sustainable growth. Vietnam should create added values in the industrial sector and use foreign direct investment (FDI) effectively, he said.
"There must be a long-term strategy for ODA disbursement in an effective way to help local businesses iron out snags," he added.
Speaking at the Consultative Group Meeting of donors for Vietnam, the Japanese Ambassador to Vietnam has announced the figure at US$2.6 billion that his government committed to Vietnam in 2013, equivalent to that of 2012.
Earlier, in the first six months of 2012, Japan pledged to provide $1.4 billion for the new ODA loan projects. In the whole financial year of 2012, the total ODA provided will be upto $2.6 billion, but specific numbers depend on the progress of project implementation of the Government of Vietnam, Mr. Tanizaki Yasuaki said.
The three-day CG meeting will also hear an important speech by Prime Minister Nguyen Tan Dung and other keynote speeches by representatives of international donors and civil society organizations.