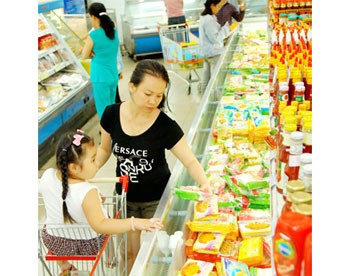 Customers in Co.op Mart on Cong Quynh Street, District1 in HCMC (Photo: SGGP)
Supermarket Chain Co.op Mart showed an annual growth of nearly 40 percent with a profit increase of about 33 percent compared to the previous year.
Co.op Mart has revealed its target for a 35 percent growth rate this year and plans to open 10 more supermarkets and 30 more Co.op Food stores. It also has plans to build a trading complex.
The supermarket chain had opened 10 supermarket branches in 2010, taking the total number of supermarkets to over 50 and Co.op Food stores to 16.