Many businesses are struggling to maintain production and business growth, while simultaneously curbing inflation and reducing trade deficit in the first months of 2012.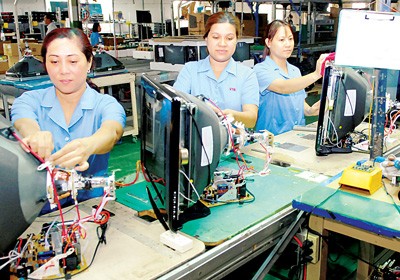 Workers assembling television sets at the VTB Company (Photo:SGGP)
According to the Ministry of Industry and Trade, in January, raw material for production of liquefied gas increased by 26.3 per cent, for polypropylen plastic by 14.4 per cent, for diesel engine production by 16.1 per cent.
Meanwhile, raw material for agricultural industry decreased because some companies still had old stocks of urea and phosphate fertilizer.
Raw materials such as cloth and fibre for the textile and garment industry also showed a decline after garment firms received a lower number of orders from foreign buyers.

The country's export turnover is expected to reach US$108.8 billion in 2012, an increase of 13 per cent. The agro-forestry-fisheries sector aims to earn $20.2 billion, an increase of 2.6 per cent compared to last year. The processing industry, known as the spearhead of the export sector, is estimated to contribute $67.5 billion, up by 17.9 per cent with garment items rising by 16 per cent to $16.5 billion.

The Ministry of Industry and Trade will try to support import and export businesses to find new markets. However, enterprises will have to recognise opportunities and adopt appropriate measures to develop their businesses.
In addition, the ministry will limit the import of luxury items, especially products and material that can be produced by local firms.
Vu Huy Hoang, Minister of Industry and Trade said that firms are not yet interested in importing materials for production, maybe because of high bank interest rates and lower demand from foreign markets.
He said that firms should take measures to cut production costs, strengthen trade promotion, and seek new export markets instead of depending on traditional ones like EU and the US. Firms also should build and protect product brands, especially focus on and ensure supply of enough goods in the domestic market.
The ministry will provide information, training and promotional programmes to help them operate more effectively so that they can gradually move on to a larger scale.
To support businesses to deal with difficulties, Prime Minister has decided to extend by three months the deadline for small-medium-sized businesses to pay their income tax.
Last year, the government also extended the deadline for these businesses, for the same purpose.
Like last year, the government is determined to curb inflation, stabilise the macro-economy, restructure the domestic economy, and maintain a suitable GDP growth rate.