The consumer price index (CPI) of Hanoi and Ho Chi Minh City declined in April mainly due to price decreases in food catering services and housing commodity groups.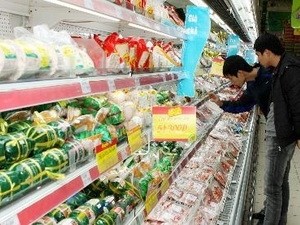 Illustrative image (Source: VNA)
Hanoi's CPI decreased by 0.15 percent over the previous month, but recorded a rise of 5.6 percent over the same period last year.
HCM City posted a 0.33 percent fall from March, but a rise of 2.44 percent over the same month last year.
Deflation was seen for two consecutive months in both cities, mainly attributes to decreasing demand for food catering services.
In Hanoi, the price of food catering services fell by 0.65 percent. In HCM City, the price of food catering services decreased by about 1 percent.
However, the transport service saw strong increases after recent hikes in oil and petrol prices (1.17 percent and 1.23 percent in Hanoi and HCM City, respectively).
The nation's CPI for the first three months of this year rose by 2.39 percent, lower than the average growth of 4.2 percent recorded during the same time in the 2004-2012 period.
The Government aims for CPI to reach about 6-6.5 percent this year.