Deputy Prime Minister regarded highly the idea of Ministry of Planning & Investment (MPI) and Euromoney Conferences to host this high-profile event. Viet Nam had successfully achieved its 2001-2005 socio-economic development goals and was implementing the 2006-2010 plans, which aimed to lift the country out of its underdeveloped status, he said.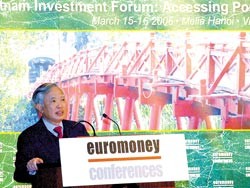 Deputy Prime Minister Vu Khoan speak in Viet Nam Investment Forum (March 15-16 2006)
Viet Nam will need to raise approximately USD 140 billion of investment to sustain an 8%-per-year growth, he added.
In addition to internal resources, Viet Nam intends to further attract foreign investments including official development assistance (ODA) as well as foreign direct and indirect investments.
Although there are still a lot to improve, it can be confirmed that Vietnamese legal system has never been so transparent. A part from the laws on trading, tax, custom, banking, insurance, land, construction, competition, intelligence properties, and aviation which have been amended or approved, one revolutionary step is to promulgate on July 1 the Unified Law of Enterprises and Investments.
Viet Nam is determined to integrate with region and international economies, and accelerate negotiations in order to join WTO. There are positive signs showing that Viet Nam will be granted its membership sooner rather than later
Moreover, Viet Nam is carrying out all its pledges in AFTA. Together with other ASEAN countries, Viet Nam have taken part in negotiations with others on free trade area. These would offer greater opportunities for both Vietnamese and international companies.
International investors have been well-aware of the opportunities in Vietnam. In fact, the wave of investment coming to Viet Nam has intensified significantly since last year. That new wave from the major economies and multinationals has also flowed into Vietnamese high-tech and service sectors. Mr. Vu Khoan said.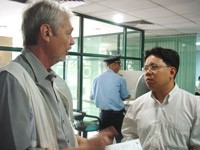 Foreign investors are studying for investment opportunities in Viet Nam. (Photo: T.C)
Foreign direct investment with its own risk and rewards and benefits has been discussed at the meetings. The forum again confirmed that opening the Viet Nam market is creating many opportunities for foreign investors. As the government continues with stimulus policies, opportunities are there for foreign investors to take.
Improving Vietnam's infrastructure and providing legal framework for the private sector to take off and maintaining optimized environment for long-term foreign investments were also taken into consideration in the forum.
The successful issuance of the State's bonds showed the international investors' faith in Vietnam. This proved government's ability to raise the necessary funds from international financial market, said Dominic Scriven – director of Dragon Capital, one of the earliest foreign fund management firms in Vietnam. The question is to define opportunities and challenges for Vietnamese companies which have the ambition to list on international exchanges, as well as the information transparency of Vietnamese listed companies.
These are the subjects of "The Viet Nam Investment Forum: Accessing Post-WTO Investment Opportunities" which was held in two days, March 14 and 15 in order to spread the positive image of Vietnamese investment environment. The forum was attended by top government officials, from ministries and provinces; representatives from major enterprises; and more than 200 international guests.
Related Article:
Deputy PM: Companies to Earn More Profit with Investment in VN