HA NOI (VNS) — Vietnamese dairy companies have an opportunity to boost their share of the local market from only 28 per cent of total milk demand, Agriculture and Rural Development Deputy Minister Vu Van Tam said at a recent conference.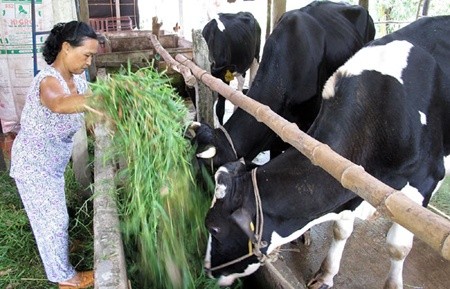 A farmer in HCM City's Cu Chi District feeds her dairy cows. The combination of industrial farms and household breeding could help Viet Nam to overcome a shortage of arable grassland for cattle. — VNA/VNS Photo The Anh
The conference, held by the Ministry of Agriculture and Rural Development (MARD) in Ha Noi, discussed new technology and operation models in dairy cattle breeding and the development assessment on the industry.
"The increasing demand for milk together with Viet Nam's reliance on milk imports creates more potential for domestic companies to capture market share," Tam said.
There has been an increasing amount of domestic companies investing in the dairy industry, including TH True Milk and Vinamilk, according to Department of Livestock Production Deputy Director Nguyen Xuan Duong.
"The Vietnamese dairy industry needs to maintain and encourage methods of household breeding," he said.
Duong explained that the combination of industrial farms and household breeding would help utilize Viet Nam's geographic characteristics, among them a shortage of arable grassland for cattle breeding.
"The basis for measuring Viet Nam's sustainable development in the milk production industry is when each household can sustainably raise about 25 to 30 heads of cattle," said Duong.
The country's milk sector had also witnessed a widespread application of modern technology in the industry during the last few years, he said.
"This is the highlight of industry development. Technology has helped to break the old idea that only favourable climate highlands like Da Lat or Moc Chau are suitable for cattle husbandry. Now all places across Viet Nam are capable of breeding dairy cattle," Tam said.
Reports from the Department of Livestock Production showed that the number of dairy cows in Viet Nam has increased by about five times, from 41,240 in 2000 to 200,000 this year.
Milk output also saw a sevenfold increase in more than 10 years, from 64,700 tonnes in 2001 to 456,390 tonnes last year.
Obstacles ahead
The milk industry and milk prices are poised to grow this year, following 30 increases that have occurred in the last seven years. In 2014, the country's average milk price is US$1.4 per litre compared with $0.5 and $0.9 in Europe and America, respectively.
Small scale household breeding, with less than 10 heads of cattle per household and the high prices of reproduction, cattle food and other services have been attributed to the increases.
La Van Thao, head of the Cattle Division under MARD, has suggested establishing a national milk committee with representatives from milk producers, milk processing factories, consumers and government agencies to participate.
He also asked for a mechanism to adjust the price and ensure the quality of milk with involvement from milk producers, milk processors and consumers.