Exports of Vietnamese leather shoes to countries in the European Union will continue to experience difficulties next year.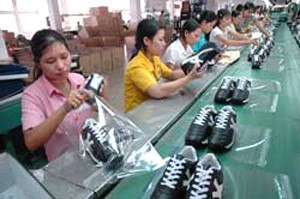 The European Commission's tariff decision has seriously affected the life of workers in the Vietnamese footwear industry (Photo: SGGP)
That was the prediction made on Tuesday at a meeting between the Industry and Trade Ministry, the Vietnam Leather and Footwear Association (Lefaso) and Southern shoemakers.

The meeting was called to discuss measures to minimize the impact of anti-dumping lawsuits and boost leather shoe exports to the EU.

Leather shoe exports are predicted to decrease by 20-30 percent next year due to the global economic crisis.

The footwear industry will also be under tremendous pressure because Vietnam will be removed from a list of countries given preferential treatment by the EU on January 1. Exports of Vietnamese leather shoes to the EU will also be subject to a 10 percent anti-dumping tariff for an extra 12 to 15 months.

The EU's decision to remove Vietnam from the preferential list and extend the anti-dumping tariffs on shoes will make Vietnamese shoe exporters lose their advantages in competing with foreign shoemakers in terms of price.

According to a Lefaso report, before the European Commission imposed anti-dumping tariffs on Vietnamese leather-capped shoes, 60-80 percent of shoemakers' production was exported to the EU.

Two years after the anti-dumping duties were imposed, only 55 percent is exported to EU countries.

However, the EU remains Vietnam's biggest shoe export market. Due to the current difficulties, the industry can target a growth rate of only 10 percent, or about US$5 billion, next year.

Leather shoes export revenue is forecast to amount to US$4.5 billion this year.