Prime Minister Nguyen Tan Dung has instructed ministries and local agencies to reassess the effects of the golf courses that are mushrooming around the country.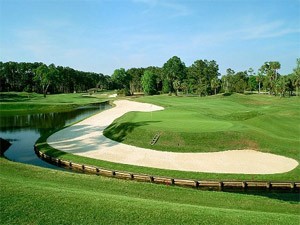 54-hole Yen Thang Golf Course in northern Ninh Binh Province
In a dispatch sent by the Government Office yesterday, he told chairpersons of city and provincial people's committees to review zoning plans and find out if golf courses were appropriate for the local socio-economic scenario.
 
The committees should report back to the PM on the extent of agricultural and forestry lands acquired for developing golf courses and the efficiency of their use.
 
They also had to report to the Ministry of Planning and Investment (MPI) whether the golf courses were complying with environmental regulations.
 
Acquisition of lands and issue of investment licenses must be done in conformity with legal provisions.
 
The MPI should formulate an overall plan to develop golf courses after factoring in the socio-economic needs of all localities.
 
It should set up a system to monitor licensing of golf courses to prevent misappropriation or misuse of lands.
Viet Nam has or is building 141 golf courses on 49,300 hectares of land, including 2,625 hectares of paddy fields, in 39 provinces and cities.
According to the MPI, since July 2006, when provinces were vested with powers to license golf courses, 104 projects have been approved -- or more than one per week.
The southern province of Long An has given out 18 licenses, including five in Can Giuoc District's Long Hau Commune alone.
If all the Can Giuoc District projects go ahead, 3,200 hectares of land will be needed. Farmers stand to get only VND35,000 (US$2.12) -- the cost of three kilograms of rice -- per square meter of land.
In Da Nang's Ngu Hanh Son District the official land price is even lower -- just VND28,000 (US$1.7) per meter.
Few local farmers benefit from these projects, while thousands lose their livelihood along with the land.
In Hoa Binh Province most arable land in Lam Son Commune of Luong Son District was acquired for the Phuong Hoang Tourism Park and Golf Course, leaving thousands of farmers landless and jobless in the process.
 
An official from the province's Department of Planning and Investment, who declined to be named, said 20 per cent of the farmers affected by the project spent most of the compensation money in a few months and now wallow into poverty.
Less than 20 of the dispossessed people are employed at the park or golf course.
Similarly, the 300-ha Dai Lai Golf Course in the northern Vinh Phuc Province took away the jobs of thousands of people, while employing just 30.
According to figures from the Ministry of Agriculture and Rural Development, an average farmer in Viet Nam cultivates 0.1 hectare. Thus, converting 2,625 hectares of paddies into golf courses would mean taking away the jobs of over 26,000 individuals.
But the golf courses are taking a toll not only on people but also the environment.
Le Anh Tuan of Can Tho University's Environmental Technology Centre said a 18-hole course needs 5,000 cubic meters of water daily, the same quantity required by 20,000 households.
A course also requires some 1.5 tons of chemicals per year -- three times the amount required for farming -- including pesticides.
All these human and environmental costs will be to benefit 4,500 to 5,000 golf club members.
More importantly, a course with around 50 members, each of whom pay US$10,000--15,000 per year, means investors would have to wait 100 years to get back their money.
It is, therefore, likely they would look at other sources of revenue. But what they are is difficult to determine just yet.