Automobile sales in Viet Nam have dropped despite the release of new models.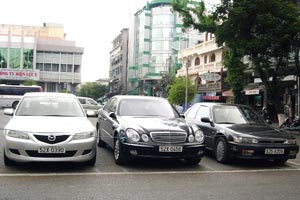 New cars are released to increase the sale (Photo:T.C)

Sales for September reached 3,868 units, which marked an increase of 86 units in comparison with August, according to statistics from the Viet Nam Automobile Manufacturers' Association (VAMA).

The increase is due in part to the release of the new, 8th generation Civic produced by Honda Vietnam Corporation.
Of the 3,868 cars sold in September, 258 were Honda Civics.

During the period from January to September, there was a five percent drop in total sales from the same time in 2005.

Another concern is that September normally marks a highpoint in sales, although this year they seem unchanged. As of now, the market does not seem to be showing any signs of improvement.

In this predicament, companies must introduce more new cars, offer customer discounts and run special promotions to help increase sales.

Recently, the Coupe and Santa Fe, made by Hyundai, have been launched in Ha Noi.

The Santa Fe, a sport utility vehicle, or SUV, is priced at US$51,900, including VAT. Meanwhile, the Coupe is specially designed for those who are interested in a sportier ride. It is selling for US$49,900 plus VAT.

The two newly-introduced cars are expected to generate a growth in sales up to 300 by 2006, 1,000 by 2007, and 5,000 by 2010 respectively.

However, with these announced prices, one is wondering whether they can win customers in the current situation of automotive market.