In accordance with down trend in the world gold price, domestic gold price reduced an extra of VND50,000 per tael to VND35.37 million on November 4.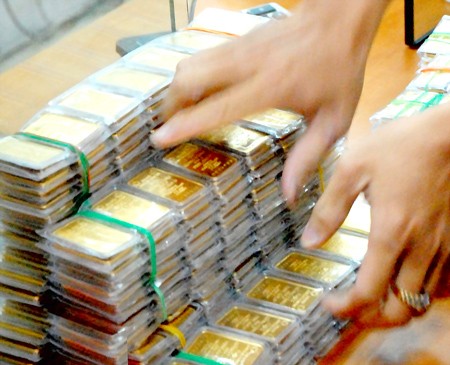 (Photo: SGGP)
At 9.45 a.m. in Ho Chi Minh City, Saigon Jewelry Company Limited posted its selling price of VND35.26 million per tael and buying price at VND35.38 million per tael. By late afternoon, the prices mitigated to VND35.25 million and VND35.37 million per tael.
 
The gold prices in the Asian market slightly increased by US$0.1 per ounce to US$1,166, equivalent to VND30 million per tael, at 9.45 a.m. (Vietnam time) on the same day.
 
Domestic gold price was thus about VND5.37 million (US$253) higher than that in the Asian market, the highest level since the beginning of the year.