Dong Nai Province licensed 58 foreign direct investment projects and approved capital increases for 62 existing projects in its industrial parks in the past nine months for a grand total of US$532 million in fresh capital since the year began.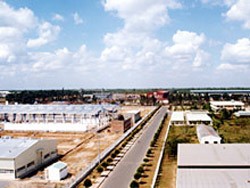 Nhon Trach Industrial Park in Dong Nai Province
Also in the period, the industrial production value of Dong Nai's foreign-invested companies amounted to US$1.5 billion, or more than 65 percent of the province's total industrial output. This was a year-on-year increase of 20.2 percent.
 
To maintain the FDI growth rate, the province has invested US$204 million to build infrastructure in 19 industrial parks approved by the Vietnamese Government.
 
Dong Nai will continue to provide industrial parks with more land, reform administrative procedures, train people to meet investors' recruitment needs, and offer utility services to satisfy the growing demands of personnel and investors both.
 
The province's 21 industrial parks house 823 FDI projects worth over US$8 billion. They come from 31 countries and territories.
 
Nearly all are industrial producers, 96 percent in fact. The rest are involved in services and agricultural and forestry manufacture.