Le Minh Duc, director of the Department of Agriculture and Rural Development in Long An Province, said on April 27 that dragon fruit farmers are now reaping huge benefits from cultivating the fruit.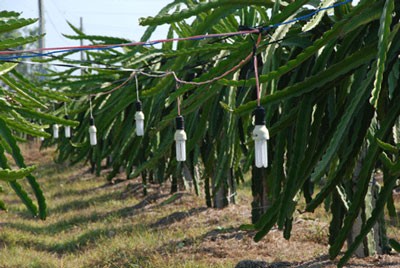 Farmers hang light-bulbs over dragon fruitplants to stimulate early flowering (Photo: Ministry of Industry and Trade website)
One hectare of dragon fruit cultivation brings in VND400-500 million (US$19,221-24,026); as a result, more farmers have expanded land area to cultivate the fruit.
On the downside, 80 percent of the volume is consumed by the Chinese market, which remains unstable and risky.

The Mekong Delta provinces of Long An and Tien Giang have the most farm land under dragon fruit cultivation--with over 5,000 hectares.
Recently, farmers reaped huge profits after they used light-bulbs hung over the plants to stimulate early flowering.

Leaders of both the above provinces have however asked farmers not to widen farm land to grow more dragon fruit but to focus on higher yield, quality and steady prices to increase competition as well as profits, and simultaneously search for new markets rather than rely so much on the Chinese market.

The provinces have now decided to allow only those households whose farm land has electricity to artificially stimulate dragon plants to bear out-of-season fruits.