Piaggio is preparing to build a factory in Viet Nam, worrying local motorbike manufacturers and the big names like Honda and Yamaha alike.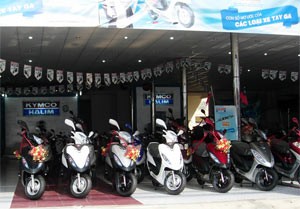 Fancy motor scooters are showcased in a downtown shop (Photo: Hoang Uy)
The Italian giant says the plant is part of a US$420-million expansion over three years that also includes India and Brazil.
According to government figures, Viet Nam imported 33,800 motorbikes worth US$35 million in the first quarter of 2007, a whopping 123 percent increase from a year before.
Since Viet Nam's economy is growing nicely, analysts predict that the demand for upmarket motor scooters will increase accordingly, so now is the right time for Piaggio's investment.
Sales by Piaggio's Vietnamese distributor Viet Y have climbed 50 percent year-on-year. Nguyen Xuan Chuan, former deputy ministry of industry, put it best when he said, "Piaggio achieved outstanding success so fast!"
However, Piaggio still has to beware of Honda, whose Click model has sold 28,000 units since coming out in January, keeping the Japanese company's factories in Viet Nam running at full speed.
Honda is preparing to launch another model, the Air Blade, on April 20, in direct competition with Yamaha's Nouvo, one of the most popular motor scooters in Viet Nam.
Yamaha itself is busy trying to capture more market share with its Mio scooter and aims to sell 40,000 units "in the first stage of this year" to quote a source.